Hybrid event production with ease
With live streams we bring people together, let them interactively create content and stories. No matter where, no matter how many viewers
Any important dialogue should be hybrid
With our flexible equipment and many years of experience, we can implement any stream. Together with you, of course, because we love working together. We would like to bring every important and systemically relevant dialogue into the hybrid event format, regardless of the size of the institution / company. Scalable, we can offer this for every budget nationwide at a reasonable price.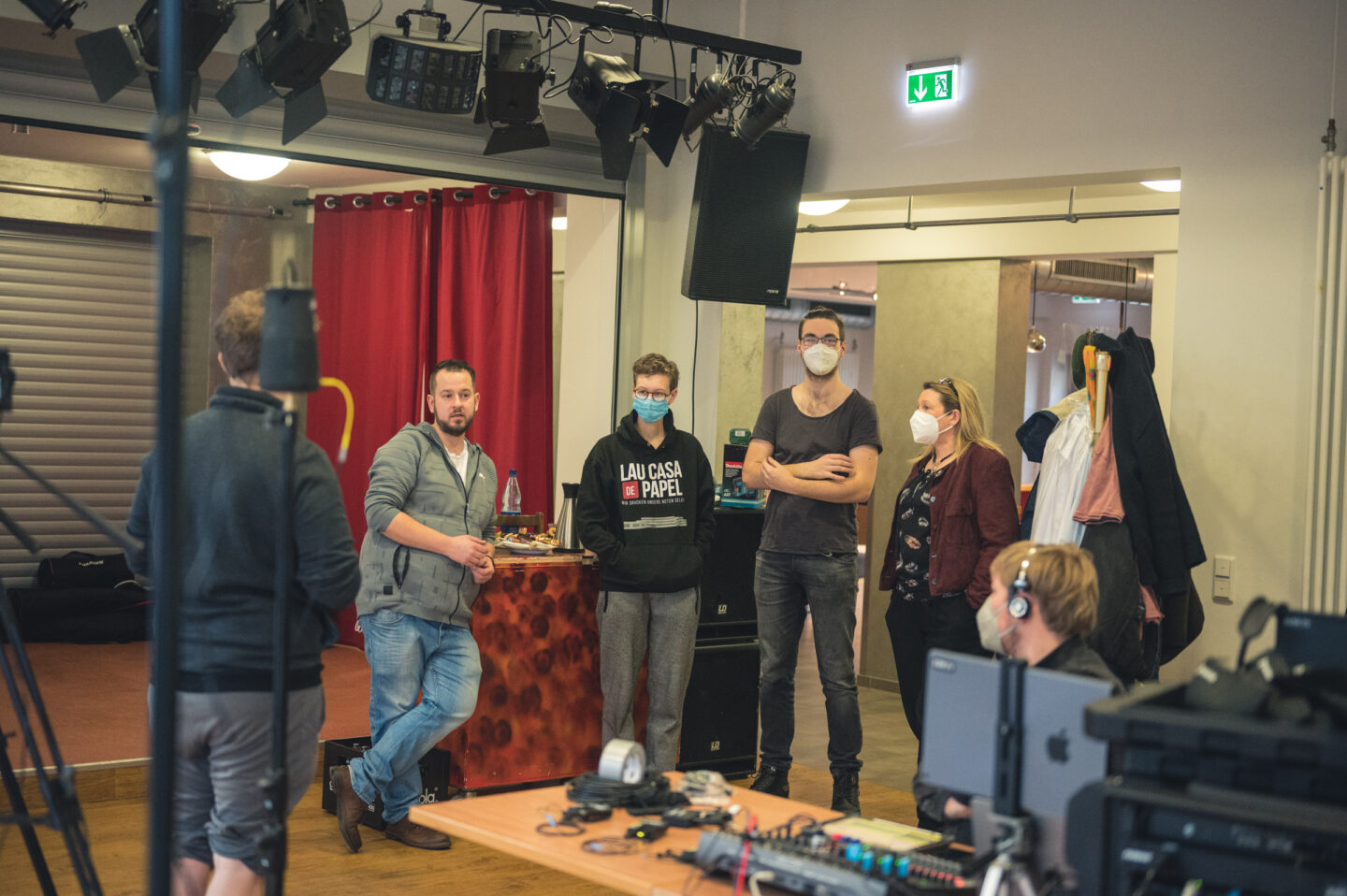 Planning & consulting
A good dialogue should be planned and still be allowed to surprise through interactions. We advise on community management methodologies when planning hybrid events to enable real participation. We are also happy to help in the run-up to finding ideas and providing impetus for special hybrid events.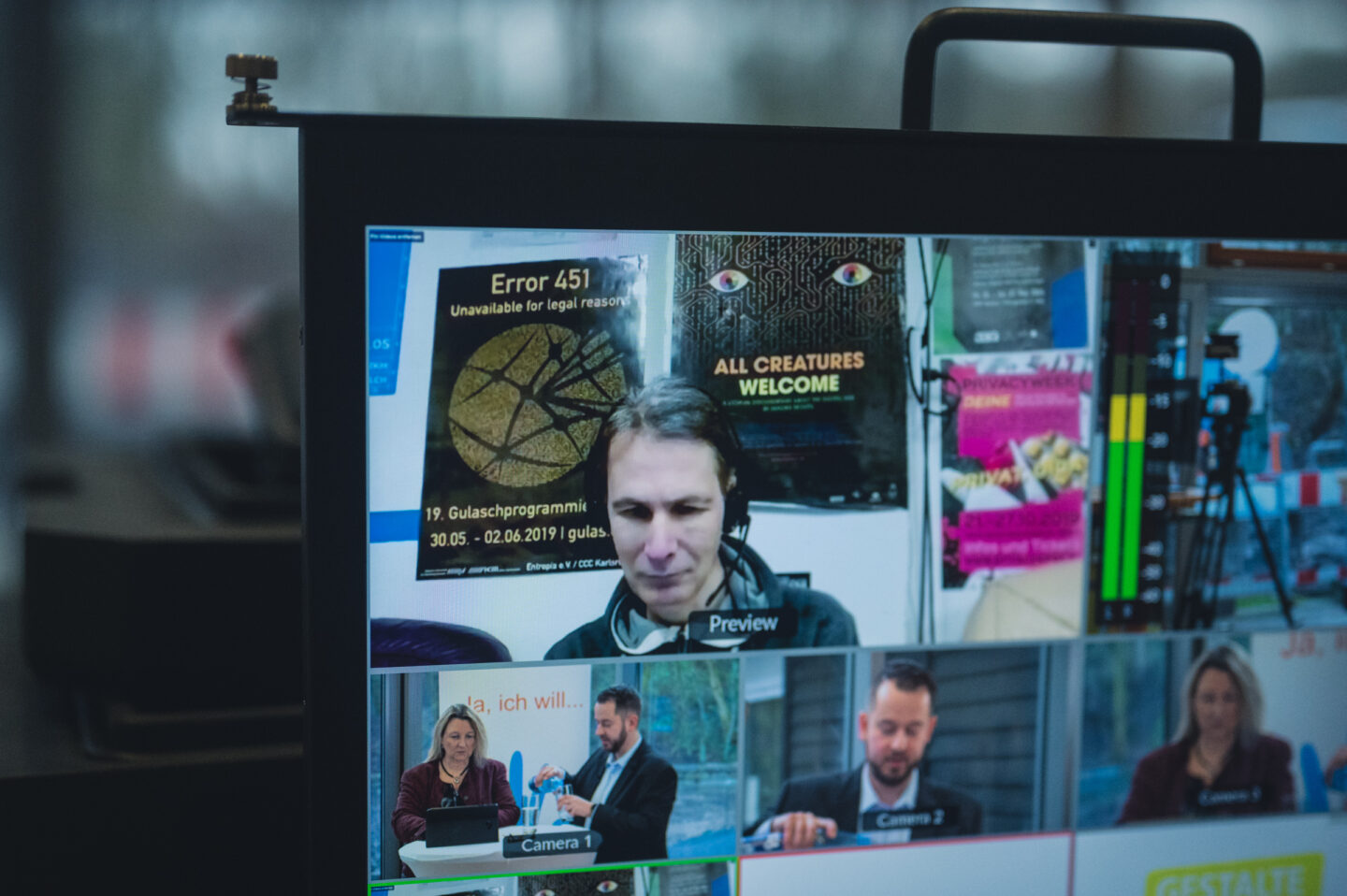 Platform mix
We work platform-independent, can handle any common meeting or webinar platform and are also ready for flexible platform mixes, whereby different participants can interact with each other via different access points. During the event, our professionals handle all platform operations so you can focus on the event.
Event technology
In addition to the five camera angles, our hybrid event studio also includes control monitors, speakers, microphones for large discussion groups, presentation laptops, emergency Internet through a Telekom LTE hotspot, lighting system and everything that the location of your event could be missing. We take care of it and are therefore independent of any building technology.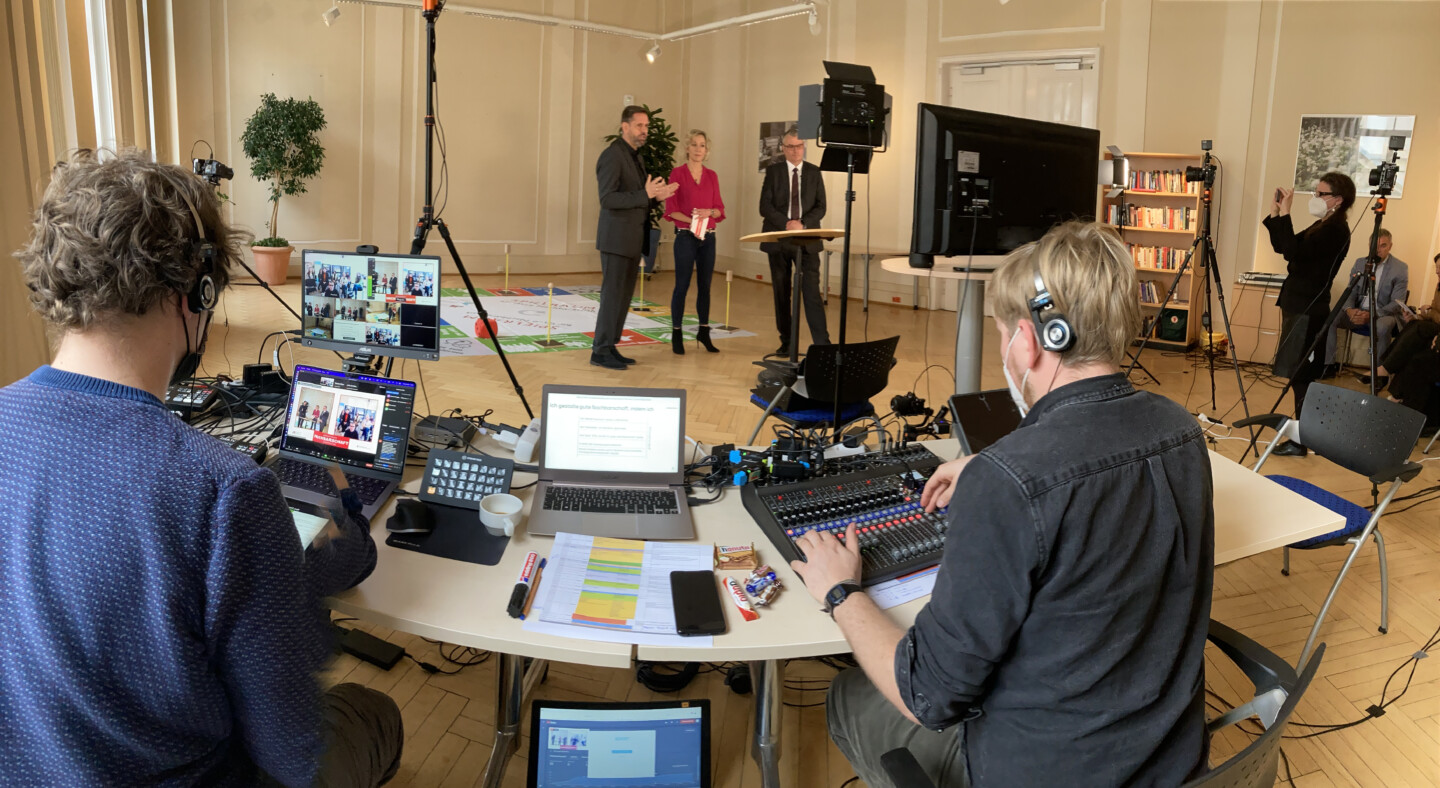 Staff
Our specialists are interdisciplinary all-rounders who not only take care of their assigned task, but can also provide individual help at any time during your event. We want your hybrid event to be a complete success and we use all the knowledge of media and IT technology that we have been able to collect over the last 20 years.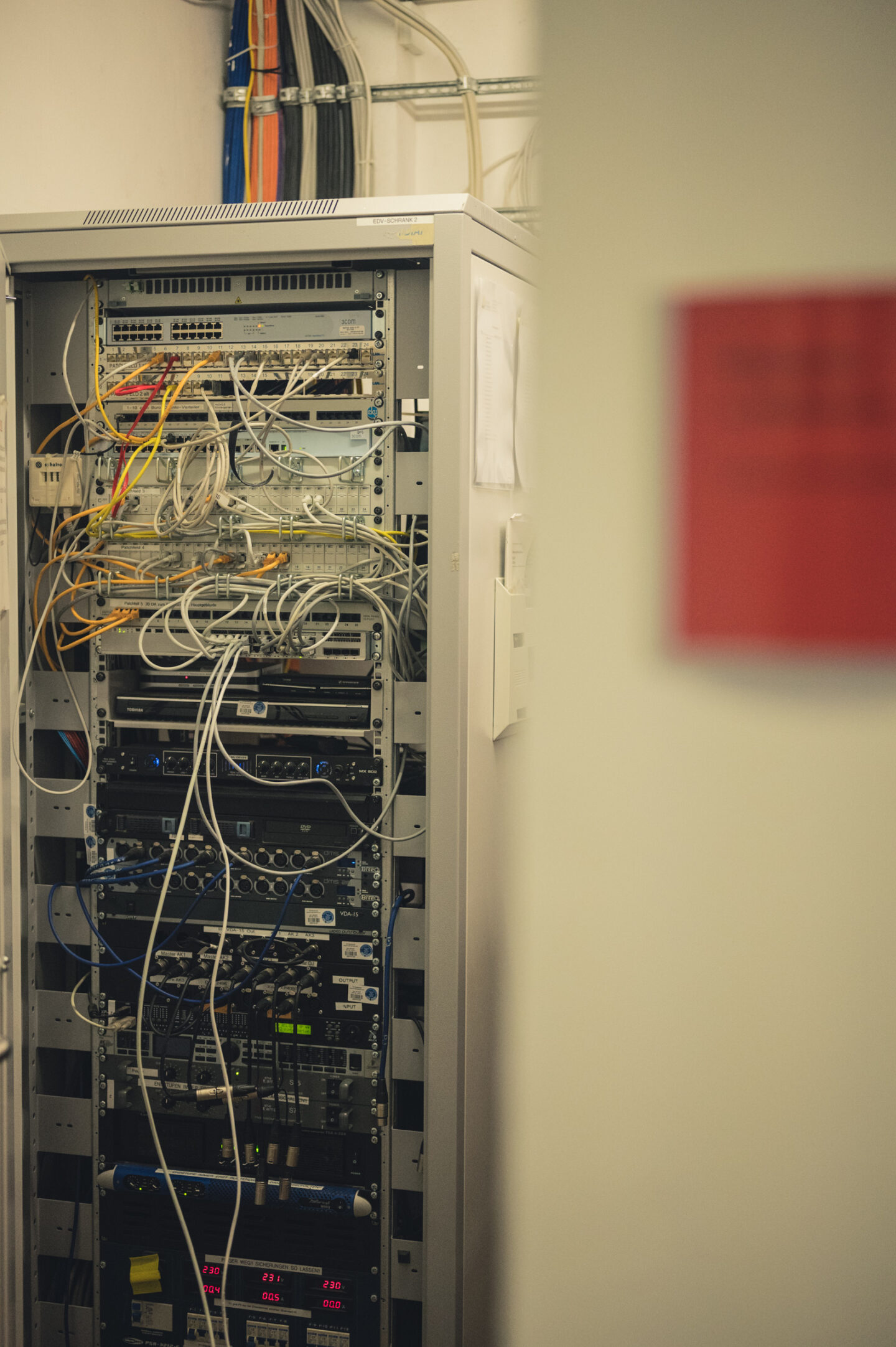 Event website
All information about your event on one website both the schedule and the links to the videos of the lectures / impressions that are uploaded afterwards. Bundle added value on a page set up by us on your existing web system and clearly define the red thread of the event from the first call of the event landing page.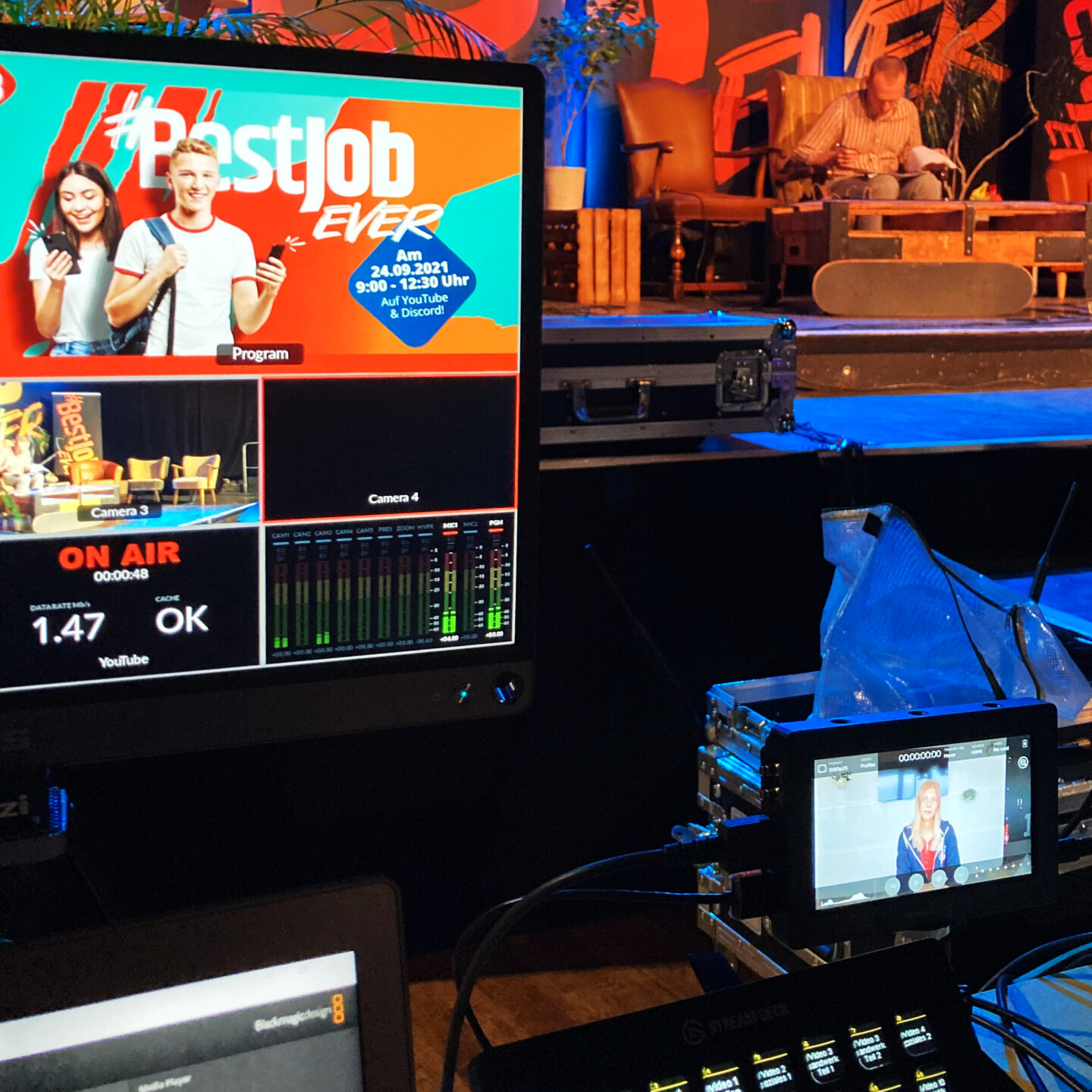 Graphic design
We make your event visually appealing with individual event designs that pick up graphic elements of your company and reflect the CI. These include a countdown intro, event trailers, intermission slides, video clips, animated lower thirds and transitions that are in no way inferior to television productions.
A perfect choice for any event occasion
With our flexible equipment and many years of experience, we can implement any hybrid event under the most difficult conditions. We can recommend the following locations, with which we have been able to experience very good cooperation:
Hafven Nordstadt-Hannover (Event Space)
On an area of ​​80 m² there is enough space for up to 40 participants. In addition to a screen, beamer, microphone and loudspeaker system, the equipment includes freely selectable seating/table use for workshops. The adjoining café can provide first-class catering by arrangement. (Image source: https://www.hafven.de/)
Faust Kulturzentrum
Suitable for any size of hybrid event. The visitors of your event feel comfortable in the two event rooms of the Kulturzentrum Faust. Ventilation is available and Covid-compliant for up to 50 participants.
Akademie des Sports (Toto-Lotto-Saal)
On an area of ​​350 m² there is enough space for up to 199 people. The equipment includes moderation material, pin boards, flip charts, screen, beamer, microphones and freely selectable seating.
The staff of the Akademie in the foyer ("Gilde-Lounge") can provide first-class catering by arrangement.
Your space is our mobile studio
We have developed a mobile studio that can also enable hybrid events on your premises. We design the stage together with you and take care of all the technical necessities, such as internet, monitoring and sound (if this is not available in the desired room ), 5 camera angles and up to 15 microphones.
A small overview of our previous hybrid event productions
12. Niedersächsischer Gesundheitspreis
The "Niedersächsischer Gesundheitspreis" honors exemplary practical examples that make a valuable contribution to health care and health promotion in Lower Saxony. Once again we streamed the award ceremony from the premises of the AOK Hannover.
Link to website
Link to full film
"Me and we thank you, you did a great job."
Silke von der Kammer, Niedersächsisches Ministerium für Soziales, Arbeit, Gesundheit und Gleichstellung
Award "Angekommen!"
With this award, the state commissioner for expellees and late repatriates, Editha Westmann, honors the voluntary commitment of six young women and men from late repatriate families.
Link to website
Link to full film
"Thank you very much, your joint performance was convincing across the board."
Dr. Christopher Spatz, Niedersächsisches Ministerium für Wissenschaft und Kultur
Ich versteh nur…GWA?! The community service game show
In three interactive rounds, moderator Thomas Müller guided the participants from the practice network through this extraordinary event. In addition to the technical implementation, we also produced the video material for the green screen.
Link to website
Link to full film
"It was a wonderful event and a lot of fun. Thank you again for the great cooperation."
Aristea Kiehl, LAG Soziale Brennpunkte e.V.
viva el clima 2021
The panel discussion on the topic "Anyone who wants to protect the human rights of all people worldwide must work to stop climate change! What does climate protection have to do with the protection of human rights?" was made tangible by us via live stream.
Zukunftswerkstatt der niedersächsischen Marketinggesellschaft
The conference on May 18, 2022 in Celle Castle was fully booked with around 300 participants and was expanded by us to an infinite number of other virtual places.
Link to website
Link to full film
Wir möchten Dich ermächtigen.
Wissen ist ein gemeinsames Gut, wir möchten die Mitarbeiter*innen deiner Unternehmung in allen Bereichen der Medien-Technik schulen, damit die digitalen Werkzeuge jeden Tag für Dich zur Verfügung stehen.
Everything starts with a mail